I'm so in love with this look.  Check out the belt.
It's my favorite day of the week: Fashion Friday!  I've been on Spring Break this week and it seems that the blogs have been a little quiet.  I know everyone is excited about the Royal wedding and probably will be posting about it, but I chose a different route.
Nothing says pirate like a skull and cross bones necklace
With Pirates of the Caribbean coming out May 20, I'm a little obsessed with (as always) Johnny Depp, and the pirate style.  What exactly is pirate style, you ask?  Well, there are a lot of ruffles, leather, head scarves, skull-infused accessories, and of course long wavy hair and drastic eyeliner.  I'm really excited to see Penelope Cruz in this one.
Oh my Johhny
So, what do you think of the pirate inspired style?  Would you wear ruffles, big gold hoops, or maybe even a leather and lace corset top?
Loving the blouse
I'm dying for this clutch bag…look at the detail
Loving the whole outfit
So much fun!
Great dress from Anthropologie
Perfect accessories
I hope you had a great week friends and that you link up with me today!  If you want to, make sure to grab the button, link back to Blonde Episodes, and add your link below!  It's just that simple.  Thanks for making Fashion Friday's my favorite day of the week!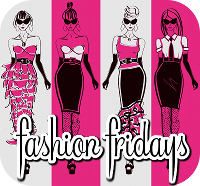 PLEASE LEAVE ME A COMMENT SO I KNOW YOU WERE HERE IF YOU LINK UP!  THANK YOU AND HAVE A FABULOUS FASHION FRIDAY!!!!This is a blog hop…you're next!