(Look at those amazing shades)
Happy Fashion Friday!!!  I hope you can link up with me this week.  If you want to link up, make sure to grab the button, and enter the blog hop!
I know it's Easter this weekend and a lot of you are going post about what to wear for the holiday, so I chose to talk about something else.  I'm on Spring Break next week (thank goodness, I really need a break from my teenagers!), and can't seem to stop dreaming about wearing shorts, sandals, tanks, and hats.  I dream of summer all year long and it's almost here.  So, to kick off the season, I thought I would share some of my favorite images right now that show summer fashion.
(Romantic, flowy fabrics and horseback riding)
All the images I chose remind me of summer.  There's horseback riding, sunglasses, beach time of course, flowy, light fabrics, tanned skin, off the shoulder tops, white pants, and of course bleached-blonde hair.
(I'm dying for these shorts–look at the tie)
There are so many reasons that summer is my favorite season, fashion being the first of course, but did you know that:
–The average American eats around 5 1/2 gallons of ice cream a year, more than any other nationality, but July is the month the most ice cream is sold, which is why we have it as National Ice Cream Month!
(Nothing better than a Louis Vuitton bikini)
–Did you also know that the first "bathing" suits were introduced in the early 1800's.  Women were only "allowed" to simply dip their legs in the water and tans were not fashionable.
(Summer, wavy hair with an adorable headband)
(Sleeveless, nautical tank with adorable bracelets)
(Hat and sundress scream summer)
(Flowy, white fabrics at the beach)
(gorgeous off the shoulder white and navy)
(Khaki, linen, and white all the best of summer)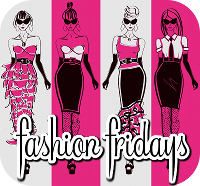 Happy Good Friday all.  May God bless you and your family on this holy day.
This is a blog hop!!!  You're next!  IF YOU LINK UP PLEASE MAKE SURE TO LEAVE A COMMENT HERE AND GRAB THE BUTTON!!!  THANK YOU!