To hat or not to hat?  That is the question.  Hats can be sexy, fun, flirty, or sporty.  Some can pull them off, while others appear to be trying too hard.  Hats are a great way to change up your style or outfit.  Do you wear hats?  What type of hat is your favorite?  Fedora, Cowboy, Baseball, etc.?  Link up with me for Fashion Friday!  If you want to link up, see the instructions below! Have a great day!!!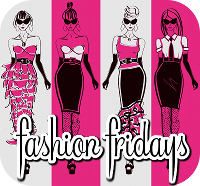 This is a blog hop.  Please follow the instructions so I don't have to be mean and delete any links.  
1.  Post about anything fashion related.
2.  Grab the button and link back to my blog.
3.  Add your link to the linky list.
4.  Visit other blogs on the hop!