Yep, it's official.  The end of the school year has arrived.  Tomorrow is my last day!  I seriously can't believe how fast this year has gone by.  I'm going to really miss my kids.  But, on the other hand, I'm really looking forward to summer!  My brother and sister-in-law are moving to Colorado, and they've asked me to drive out there with them and stay for the summer!  I'm so excited and can't wait to see all Colorado has to offer, including the men lol!
So, moving right along, it's Fashion Friday, and I hope you can link up with me!  This week I'm loving the Resort Wear collection for 2013 by Gucci.  The colors are beautiful, love the textures, and the 60's inspired sihlouettes are just perfect for relaxing.  Take a look and tell me which is your favorite.
All photos courtesy of Vogue Magazine
Want to be a part of Fashion Friday?  Just follow the directions below and link up!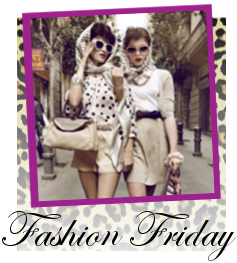 1.  Blog about anything fashion related (please make sure it's a current post from today forward, and please only link back to one post).
2.  Grab my button above and link back to Blonde Episodes.
3.  Add your link to the link up.
4.  LEAVE ME A COMMENT LETTING ME KNOW YOU WERE HERE!
5.  Visit other blogs on the link and make new friends!