It's Fashion Friday again!  I'm so excited because this week has been my first real week of vacation.  I'm loving catching up on all of your blogs and can't wait to see what you share for Fashion Friday!  There are so many fabulous trends out there for summer, and one I'm loving is scallops.  A scalloped edge on anything makes the piece look feminine and edgy at the same time.  Scallops are being used on everything from shoes to bathing suits!  Check out these gorgeous finds.
And check out the scallop detailing on the bathing suit from Swimspot
So, want to link up with me for Fashion Friday?  Just follow the directions below and be a part of the fun!  (PLEASE FOLLOW ALL INSTRUCTIONS SO I DON'T HAVE TO BE MEAN AND DELETE ANY LINKS–THANKS!)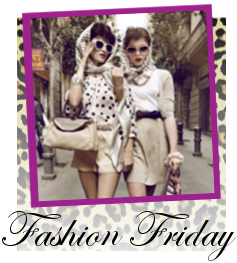 1.  Blog about anything fashion related (please make sure it's a current post from today on and only link back to one of your posts please)
2.  Grab my button above and link back to Blonde Episodes
3.  Leave me a comment letting me know you were here!
4.  Add your link to the link up
5.  Visit other blogs on the link and make new friends!