Hey y'all!  Things have been so crazy busy since I arrived in Colorado, I apologize for not commenting on blogs lately!  I hope you're not thinking I disappeared or something, because I am trying to keep up on your posts on Twitter, FB, etc.  
That being said, it's Fashion Friday once again!  This week I'm loving all the runway coverage for the Fall 2012 lines.  It's a bit hot here for couture fashion, but I get a little excited to see what's coming and hope you do too!  If you want to link up with me below, please, please, please follow the instructions and be a part of the fun!
All photos courtesy of Vogue Magazine Online
Ok, here comes the fun part!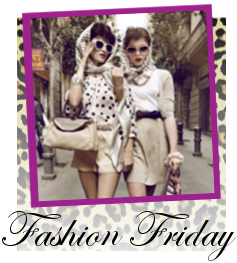 1.  Blog about anything fashion related…make sure its a post from today on, and please only link back to one of your posts.
2.  Grab my button above and link back to Blonde Episodes.
3.  Leave me a comment here letting me know what you think about my Fashion Friday post.
4.  Add your link to the link up.
5.  Visit other blogs on the link to make new friends!  That's it!