So glad to get the Fashion Friday post up early.  I've been running around all day trying to figure out why I've been having stomach pain, and it looks like I'm on my way to an ulcer.  Yikes.  I need to stop stressing and just enjoy each day.  So, for now, no stress or I'm going to get sick.  I'm glad it's the weekend and I get to relax.  How about you?
Fall is just around the corner and that means back to school for me.  I love to get new school clothes…it's the best part about returning to school for a teacher.  I'm on the hunt for some new fall finds, and came across this feature in Vogue.  They focus on the most-photographed girls and what they want for fall 2012. Take a look: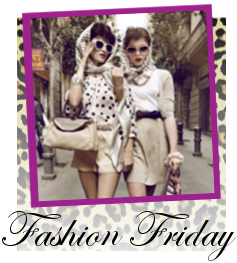 So how do you think up?  Follow the steps below and you're in!
1.  Please blog about anything fashion related (make sure its a current post from today forward, and only link back to one post)
2.  Grab the button above and link back to Blonde Episodes
3.  Leave me a comment letting me know you were here
4.  Add your link to the link up
5.  Visit other blogs on the link and make new friends!