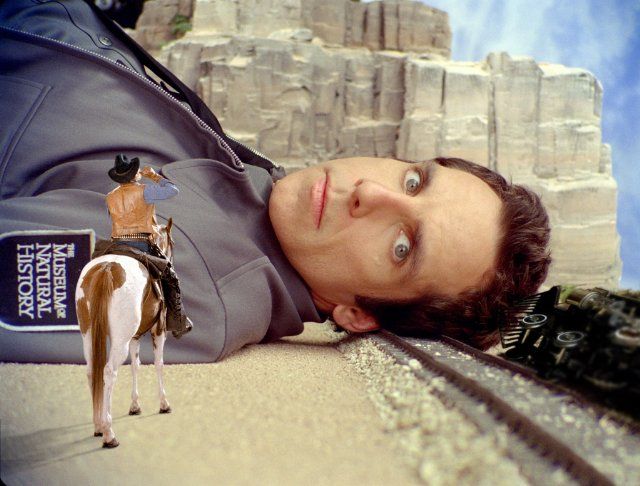 I can't believe I had never seen Night at the Museum (2006) until recently, and I loved it!  Being a history buff (ok nerd), and a lover of all museums, it was perfect for me.  If you've never seen it, you have to check it out.  In the meantime, here's some fun trivia for you.
–Larry's inability to remember Christopher Columbus' name is a wink and a nod to producer Chris Columbus.
–The pronunciation of Sacagawea's name is debated in the movie. Both pronunciations used are correct.
The "Hunnish" language in the film is completely improvised.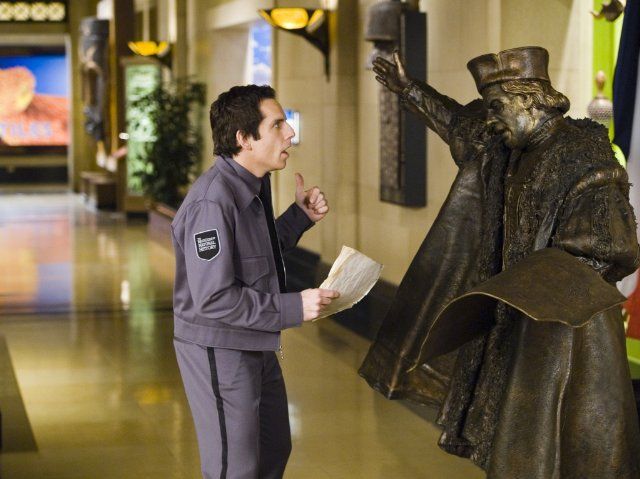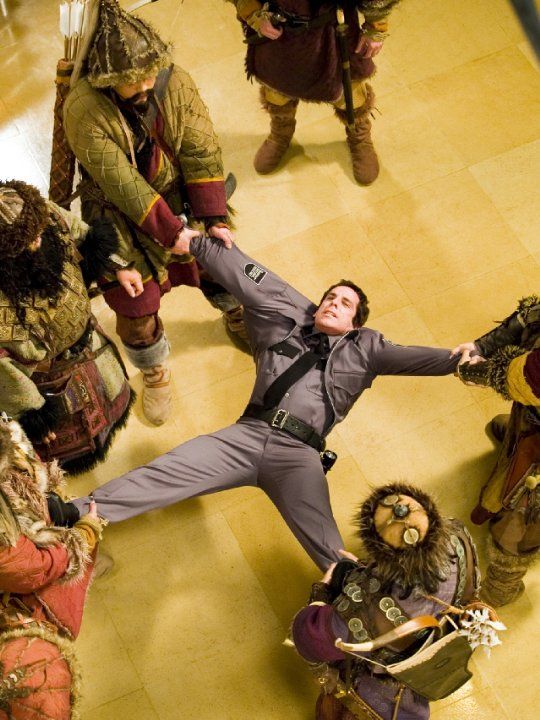 –While filming, Ben Stiller and Owen Wilson only had one day that they saw each other. Stiller talked to a toothpick for the Jedediah scenes, then three months later Wilson came in and filmed all of his parts.
–The TV news report mentioning cave drawings in the subway shows a quick shot of the 81st St. subway station in New York, which is indeed the correct subway stop for the American Museum of Natural History. Many NY subway stations include wall tiling that incorporates mosaics and artistic patterns in themes related to the station's neighborhood. The subway cave drawings shown in the film are actually part of the tile art in the station, relating to the museum itself.
—Ben Stiller watched Mission: Impossible (1996) and Mission: Impossible II (2000) in order to run the way his long-time friend Tom Cruise does.
—Owen Wilson's role as Jedediah was just supposed to be a cameo – but his character tested so well with the audience, they gave him a bigger part. He wasn't going to be credited either way.
–Director Shawn Levy doubled as the T-Rex during filming in order to capture the realistic reactions of Ben Stiller in scenes involving him and the creature.
–The building featured in the film, which was constructed on a sound stage in Vancouver, Canada, is based on the American Museum of Natural History in New York City, external shots of which were used in the movie.
–Stuntman Roger Lewis (the cowboy in the blue shirt) broke vertebrae in his neck during the scene where Jedediah and Octavius let the air out of the van's tires. Luckily his injury was minor.
–Despite their respective careers of more than 50 years each, this is only the second timeMickey Rooney and Dick Van Dyke have worked together. Their only other film together was The Comic (1969).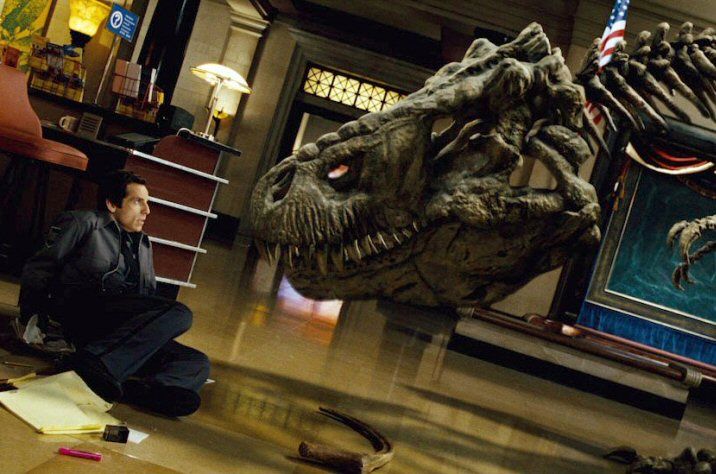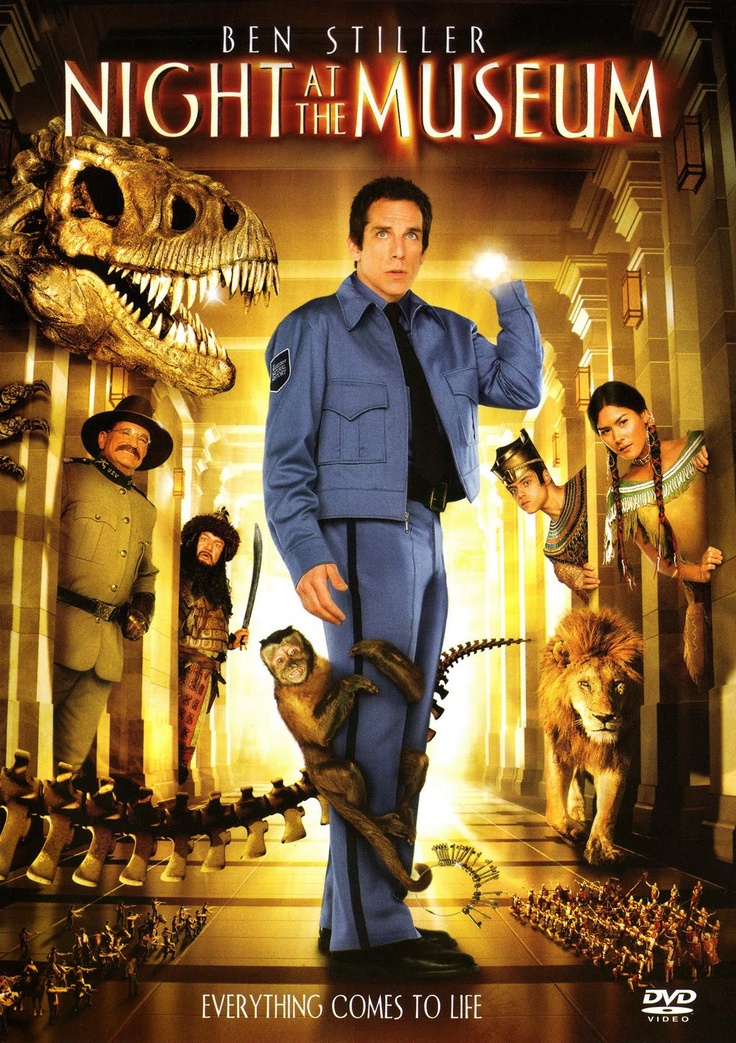 –Visitors to the real American Museum of Natural History increased by 20% during the holiday season following this movie's opening.
–Trainers spent several weeks training Crystal the Monkey to slap and bite Ben Stiller in the film.
—Anne Meara:  The woman in the employment office is Ben Stiller's mother.
–When the night guards chase Nick up the stairs, only Dick Van Dyke performed the stunt himself. The other two actors required younger stunt doubles.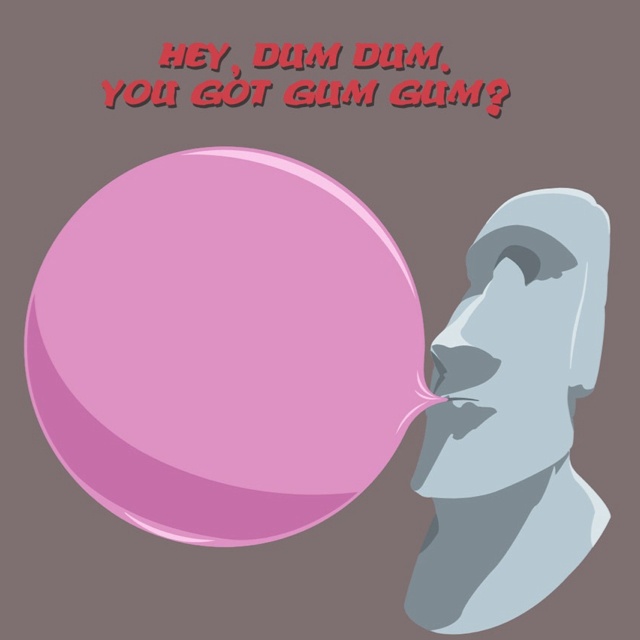 All photos courtesy of Pinterest
All trivia courtesy of IMDB