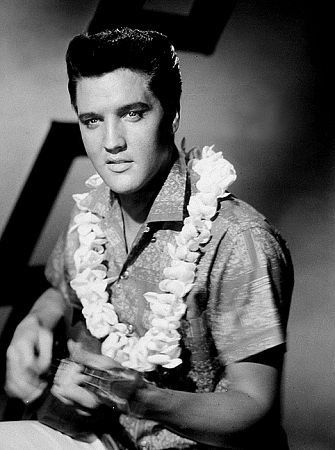 Today I'm feeling in the mood to watch a classic film.  One of my favorite Elvis films (and films in general) is Blue Hawaii.  Maybe it's because it's been years since I've been to Oahu and am missing it?  The soundtrack is too fun and it's a lighthearted good time you'll love if you haven't seen it.  Here's some trivia on the film, followed by a clip.  Let me know if you've never seen it or what you love about it.  Have a great Sunday!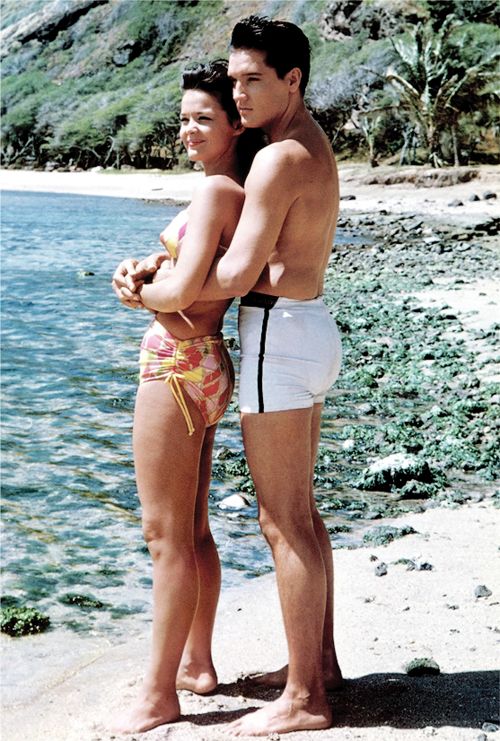 –Turn the sound up loud when Chad (Elvis Presley) is first seen leaving the plane and you will hear hundreds of screaming fans who were watching the shoot.
–Angela Lansbury, who played Elvis Presley's mother, was only 35 years old when the movie was filmed, a mere ten years older than Elvis.
–The closing scene, where Elvis Presley is getting married by the pool, was shot at the Coco Palms Resort on Kauai, where Elvis was staying when filming the movie.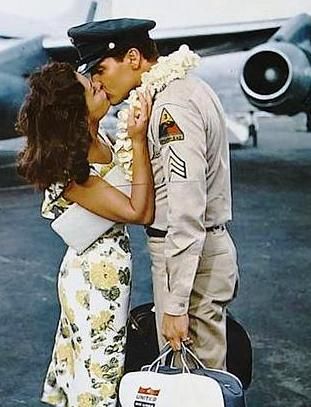 –Approximately seven minutes before "The End," Maile (Joan Blackman) kicks Chad (Elvis Presley) out of her room on Kauai, then peeks through the blinds. Briefly in her view is a couple paddling a canoe. The woman, blond and seated in front, is pop singer Patti Page. How Patti paddled her way into being an extra came about because she was then married to Charles O'Curran, a choreographer and music stager for many films produced by Hal B. Wallis, including this one.
–The red MG roadster which opens the film was often seen in the first half. Presley liked the 1960 MGA 1600 MkI so much that he bought it. It now resides in Graceland at his car museum with his motorcycles, Cadillacs, Stutzs and other vehicles.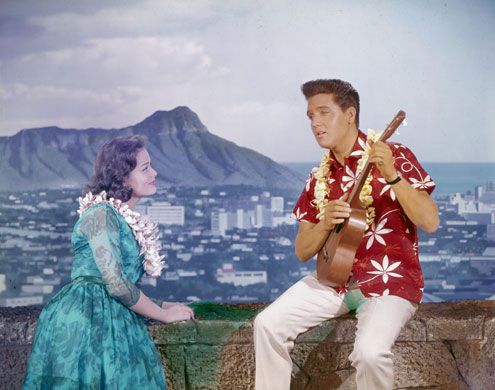 –Juliet Prowse, Elvis Presley's co-star in G.I. Blues (1960), was signed to play Maile, but she wanted to use another studio's make-up artist and have the studio pay to fly her secretary to Hawaii. When those conditions were refused, she pulled out of the film.
–Elvis Presley gave his famous ukulele from this film to Hank Garland, nicknamed "Sugarfoot." Garland was one of the top session guitar player during the 1950s in Nashville. He recorded with Elvis and toured with him from 1958-1961. Elvis etched his initials into the ukulele for Garland. During his 1961 Hawaiian benefit concert (for the Arizona Memorial), Elvis was quoted as saying that Garland was "one of the finest guitar players in all of the country."
–The soundtrack album for this movie is not only Elvis Presley's most successful chart album, but it is also the #1 album overall for 1961. "Blue Hawaii" spent 20 consecutive weeks at the #1 spot on Billboard Top LPs chart in 1961-1962 (a record to be broken only in 1977 by Fleetwood Mac's "Rumors" album), and it stayed on the charts for 79 weeks.
–Jenny Maxwell, who plays Ellie Corbett, was later the victim of a famous never solved murder when in June of 1981 she and her husband, prominent attorney Ervin "Tip" Roeder were gunned down at the entrance to their Beverly Hills condo. Police were never able to develop a viable suspect or motive for the double homicide. It was eventually written off as a botched robbery but it is worth noting that at the time of the murder Roeder was aggressively campaigning to reopen the investigation into the death under mysterious circumstances of another prominent actor, Nick Adams. Adams death was ruled an accidental drug overdose but many of his friends, including Roeder, didn't accept this explanation believing that Adams had probably been murdered.