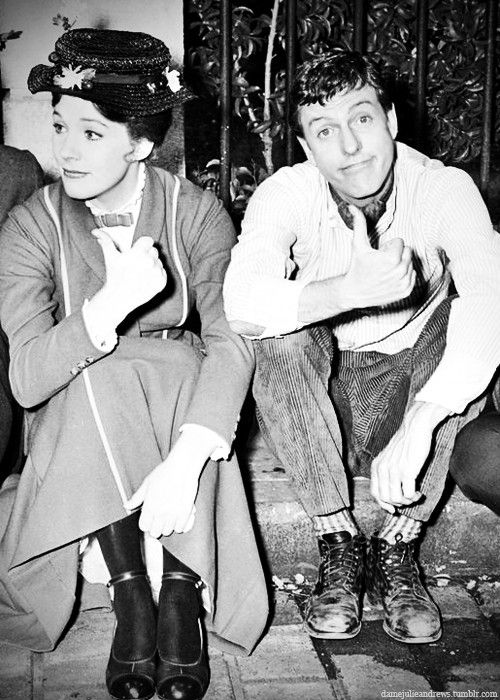 The new Mary Poppins is coming out soon so I thought it might be the perfect time to revisit the original. I'm a fan of anything and everything Disney and loved Mary Poppins as a kid. Julie Andrews was so classy and fun, she made us want to have her as our nanny for sure. Are you excited to see the new version? If you get a chance you should rewatch the 1964 version. Here's some fun trivia to get you wanting more…
—Julie Andrews initially hesitated to take the part of Mary Poppins. She hoped Jack L. Warner would ask her to star as Eliza Doolittle in My Fair Lady (1964).
–Many of the nannies in the large queue of applicants for the job at the start of the film were actually men in drag.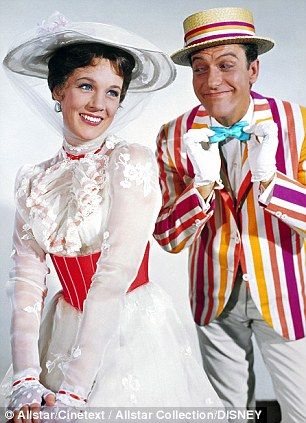 –The author of the "Poppins" books, P.L. Travers, approved heartily of the casting of Julie Andrews after hearing her only on the telephone. Andrews granted the interview from her bed after the delivery of her daughter, Emma Walton Hamilton.
–Although Dick Van Dyke considers this the best film he has appeared in, he nevertheless maintains to this day that he was somewhat miscast as Bert. He has suggested that either Jim Dale or Ron Moody would have played the part better.
—P.L. Travers wanted the animated chalk-drawing sequence removed from the film, but Walt Disney refused.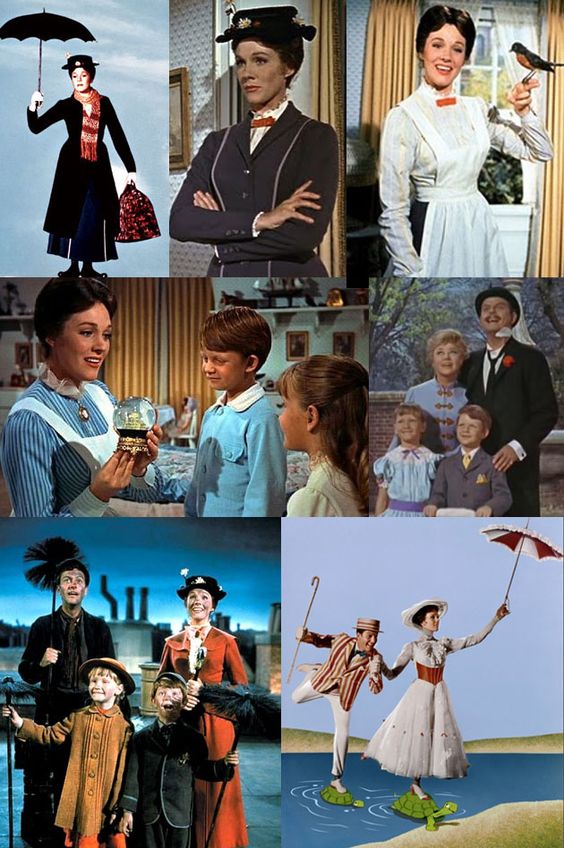 –Lyricist Robert B. Sherman had searched for nearly two weeks for a catchy phrase that could be Mary Poppins' anthem. He came across the perfect title when his young son Jeff came home from school one day and announced that he had just received a polio vaccine. Thinking that the vaccine had been administered as a shot, Sherman asked, "Did it hurt?" He replied, "No. They just gave it to me on a cube of sugar and I swallowed it down." Sherman tried the idea on his brother the following morning, Richard M. Sherman put the phrase to music and "A Spoonful of Sugar" was born.
—Walt Disney cast Julie Andrews for the lead after seeing her in "Camelot" on Broadway. When she mentioned she was pregnant, he offered to wait until she had her baby to start filming and offered her then-husband, Tony Walton, the job of designing costumes and some sets for the film. Disney also gave the couple a personally escorted tour of Disneyland and the studio to help them make up their minds.
–With five wins out of 13 nominations in total, this film marked Walt Disney's single most successful night at the Academy Awards. Never before or since, as of 2016, has a single Disney film won as many Oscars in one evening.
–The scene where Mr. Dawes Sr. (Dick Van Dyke) has trouble negotiating the step in the bank's meeting room was not originally in the script. While viewing a make-up test for Van Dyke in the projection room, Walt Disney saw him entertaining crew members on the test film between takes with some comic routines, among them the "stepping down" routine of an old man trying to step off a curb without hurting himself. The test film not only convinced Disney to cast Van Dyke as Mr. Dawes Sr. but he specifically requested that crew members "build a six-inch riser on the board room set so Dick can do that stepping-down routine".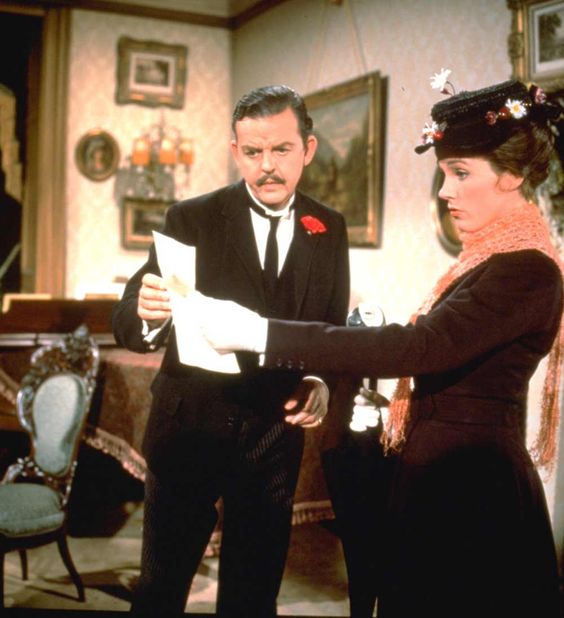 –Prior to the 1964 premiere, Walt Disney had not personally attended a studio premiere since Snow White and the Seven Dwarfs (1937) in 1937.
—Julie Andrews' first Oscar win for Best Actress in a Leading Role.
—Julie Andrews was left hanging in mid-air during one particularly long camera setup. The stagehands unwittingly lowered her wire harness rather rapidly. "Is she down yet?" called a grip. "You bloody well better believe she is!" fumed Andrews.
—Julie Andrews wore a wig in the movie.
—Walt Disney first attempted to purchase the film rights from P.L. Travers as early as 1938. She rejected his offer, as she didn't believe a film version would do justice to her creation. Another reason for her initial rejection would have been that at that time the Disney studios had not yet produced a live-action film.
–Filmed entirely indoors in all four sound stages on the Walt Disney Studio lot in Burbank, CA. Cherry Tree Lane, the park and the exterior of St. Paul's Cathedral, filled the entire Stage Four of the Disney Studio.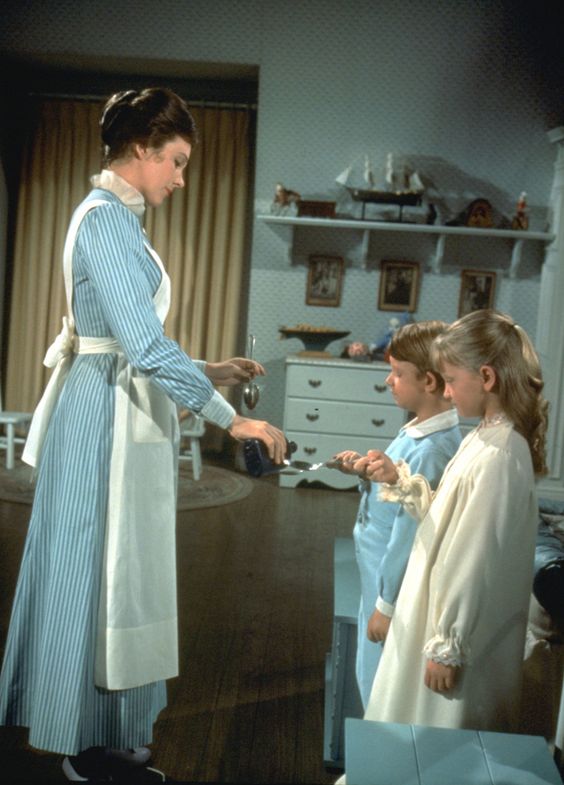 –Included among the "1001 Movies You Must See Before You Die", edited by Steven Schneider.