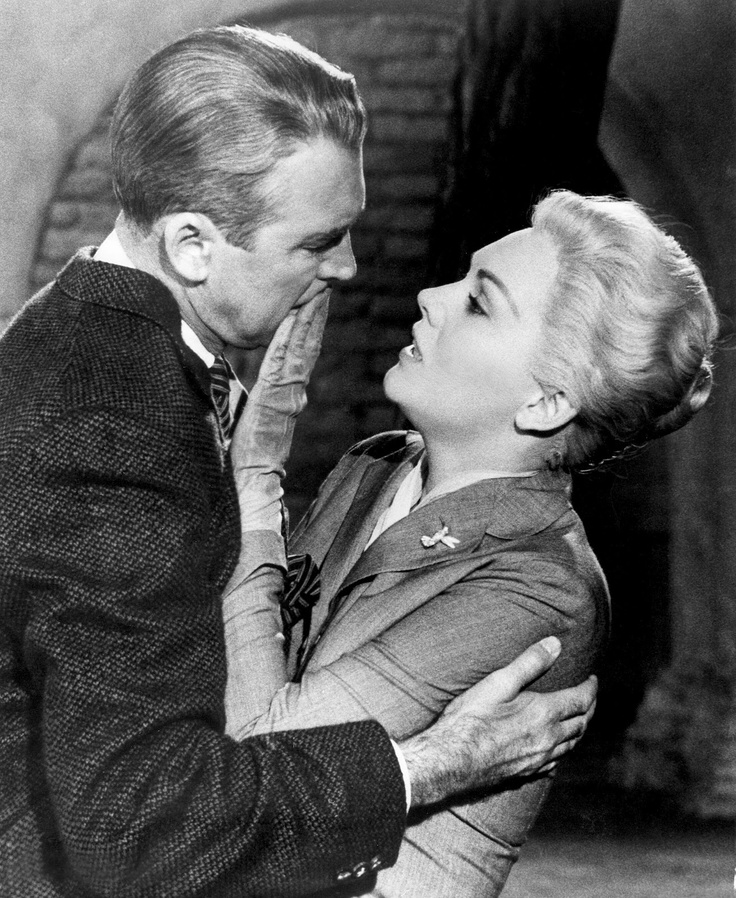 Happy Friday!  I hope you're all ready for a long 3-day weekend!  I sure am.  I finished my first week back at school and am exhausted!  I'm thinking a movie might be on the menu tonight.  What will I choose?  Vertigo, of course!  If you've never seen Vertigo, which is one of my favorite Hitchcock films, you have to check it out.  The scenery is gorgeous and the story has all the right Hitchcock-esque twists and turns.  Before you watch, take a look at some fun trivia.  What's your favorite Hitchcock film?  Have a great night!
–The film was unavailable for decades because its rights (together with four other pictures of the same period) were bought back by Alfred Hitchcock and left as part of his legacy to his daughter. They've been known for long as the infamous "Five Lost Hitchcocks" amongst film buffs, and were re-released in theatres around 1984 after a 30-year absence. The others are The Man Who Knew Too Much (1956), Rear Window (1954), Rope (1948), and The Trouble with Harry (1955).
–Uncredited second-unit cameraman Irmin Roberts invented the famous "zoom out and track in" shot (now sometimes called "contra-zoom" or "trombone shot") to convey the sense of vertigo to the audience. The view down the mission stairwell cost $19,000 for just a couple of seconds of screen time.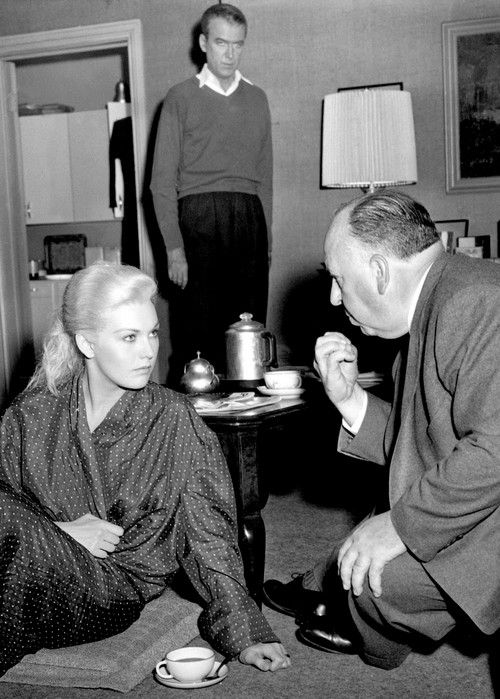 –There is a 25 year age difference between James Stewart and Kim Novak, who were 49 and 24 respectively when the film was shot in 1957.
–The Empire Hotel where James Stewart eventually finds Kim Novak is (as of 2009) the Hotel Vertigo (formerly the York) located at 940 Sutter St. in the heart of San Francisco. Novak's character lived in Room 501, which still retains many of its aspects captured in the film.
–Kim Novak has told interviewers that while in her "Judy" costumes, she did not wear a bra (bralessness was extremely unusual for a woman of that time). Novak has said that it was an element of the Judy costuming that helped her feel much more comfortable as Judy than as Madeline, whose costumes were much more severe and stiff.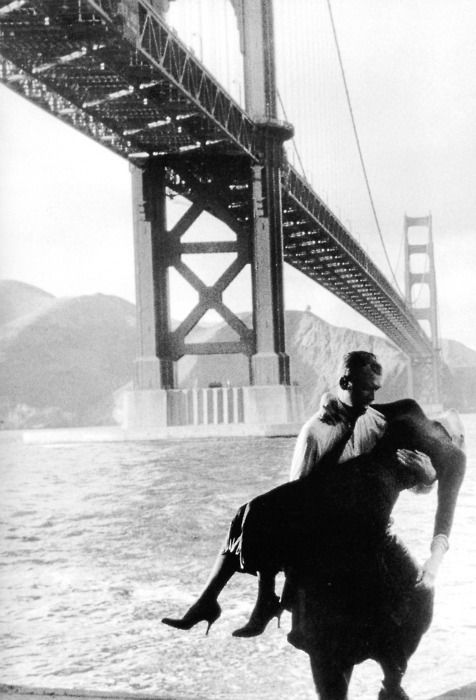 –Alfred Hitchcock was embittered at the critical and commercial failure of the film in 1958. He blamed this on James Stewart for "looking too old" to attract audiences any more. Hitchcock never worked with Stewart, previously one of his favorite collaborators, again.
–In a later interview Alfred Hitchcock said he believed Kim Novak was miscast and the wrong actress for the part.
–Audrey Hepburn expressed an interest in playing the dual roles of Judy and Madeleine.
–Scotty's apartment actually exists, and it boasts the improbably stunning view of Coit Tower through its living room window, which looms over Scotty and Madeleine in the apartment scenes. True aficionados can find it (near Fisherman's Wharf in San Francisco) by positioning themselves in the same relation to the tower that is seen through the window.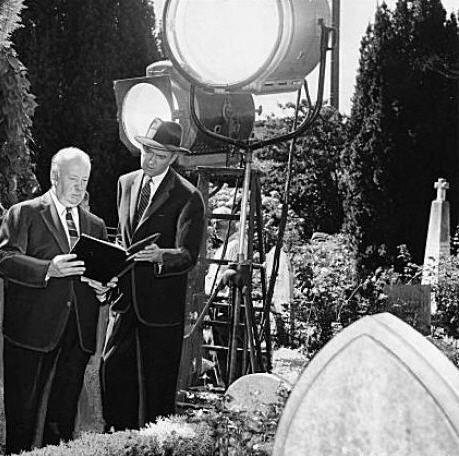 –When Kim Novak questioned Alfred Hitchcock about her motivation in a particular scene, the director is said to have answered, "Let's not probe too deeply into these matters, Kim. It's only a movie."
–When Alfred Hitchcock's wife, Alma Reville, saw the film, she said that she liked it, except for one shot where Kim Novak walks towards the San Francisco Bay, which she felt made Novak look too large on the screen. For years afterward, when discussing this film, Hitchcock would insist that Alma hated this film.
–Costume designer Edith Head and director Alfred Hitchcock worked together to give Madeleine's clothing an eerie appearance. Her trademark grey suit was chosen for its colour because they thought it seemed odd for a blonde woman to be wearing all grey. Also, they added the black scarf to her white coat because of the odd contrast.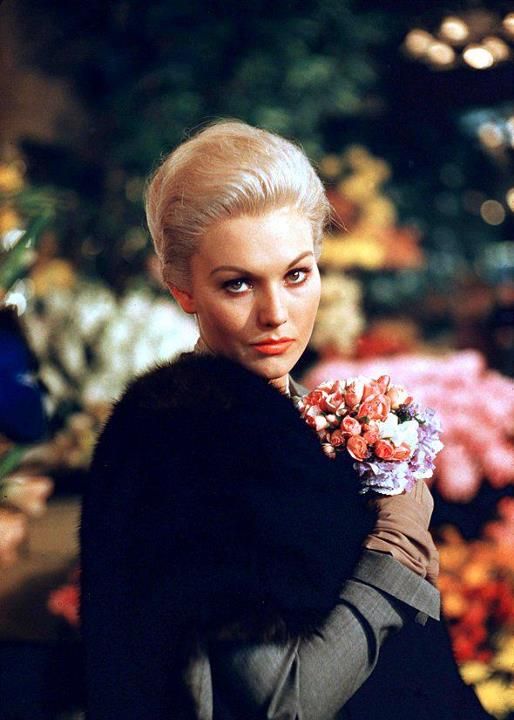 –Many critics attributed the film's failure to James Stewart, who was considered miscast as the romantic lead, partly due to his age.
–Scottie's car is a white 1956 Desoto Firedome Sportsman Hardtop Coupe. Madeleine's is a green 1957 Jaguar Mk. VIII. Midge's is a gray 1956 Volkswagen Karmann Ghia Coupe.
–The scene outside Elster's shipyard where Hitchcock makes his cameo appearance at approximately 11 minutes in, was actually the Paramount prop department gates.
–Scottie wears suits of four separate colors in the film: blue, blue-gray, gray, and brown. This is a collection that would be considered typical for a professional bachelor of the era.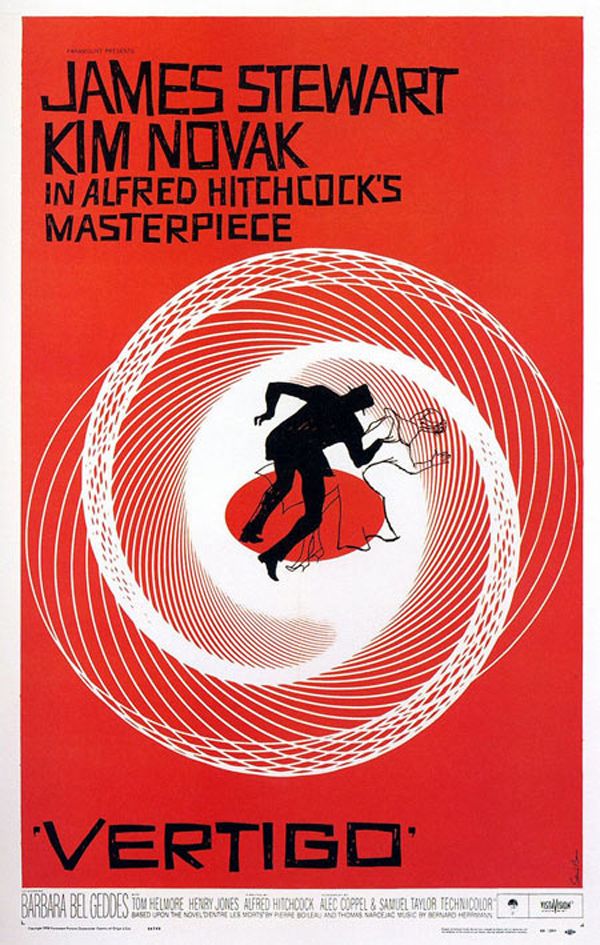 All trivia courtesy of IMDB