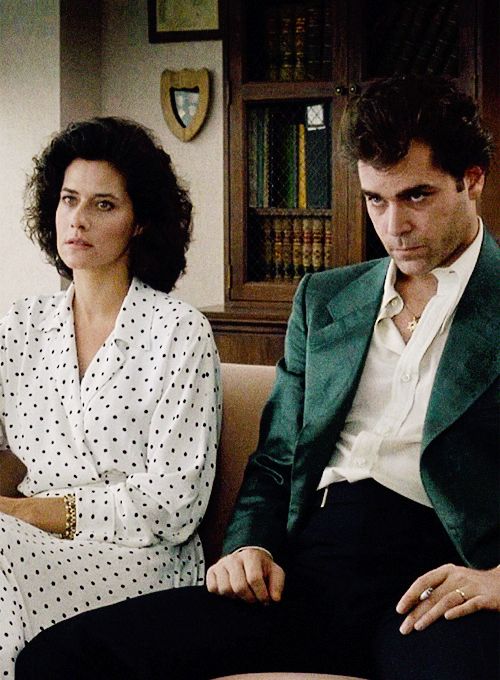 One of my all time favorite films (and definitely my favorite gangster film) is of course "Goodfellas." The film came out in 1990 and is now being remastered for a reunion at the Tribeca Film Festival. The reunion is to celebrate the film's 25th anniversary and is hosted by Jon Stewart. The event will close the festival on April 25th at the Beacon Theater.  When asked about the reunion, Martin Scorsese commented, "I was so excited to learn that this picture, now 25 years old, would be closing this year's Tribeca Film Festival. Excited and moved…It was an adventure to get it on screen—we wanted to make a movie that was true to Nick Pileggi's book and to the life of Henry Hill and his friends, which means that we broke some rules and took some risks. So it's heartening to know that GoodFellas has come to mean so much to so many people. It's wonderful to see one of your pictures revived and re-seen, but to see it closing Tribeca, a festival of new movies, means the world to me."
If you've never seen the film do yourself a favor and check it out asap!  Here's some photos and trivia to get you excited.  Let me know what you think if you haven't seen it and if you have, what's your favorite scene?
–According to the real Henry Hill, whose life was the basis for the book and film, Joe Pesci's portrayal of Tommy DeSimone was 90% to 99% accurate, with one notable exception; the real Tommy DeSimone was a massively built, strapping man.
–The "You think I'm funny?" scene was based on a story that Joe Pesci acted out for Martin Scorsese. While working in a restaurant as a young man, Pesci once told a mobster that he was funny and the mobster became very angry. Scorsese allowed Pesci and Ray Liotta to improvise the scene. He did not tell the other actors in the scene what would happen because he wanted their genuine surprised reactions.
–In a documentary entitled The Real Goodfella (2006), which aired in the UK, Henry Hill claimed that Robert De Niro would phone him seven to eight times a day to discuss certain things about Jimmy's character, such as how Jimmy would hold his cigarette, etc.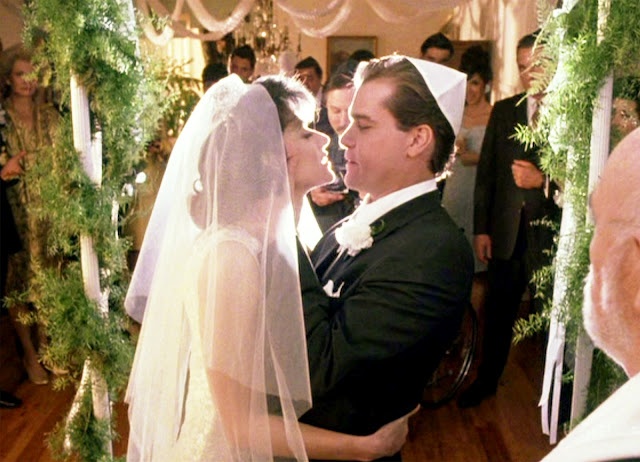 –The now-legendary Steadicam trip through the nightclub kitchen was a happy accident. Scorsese had been denied permission to go through the front, and had to improvise an alternative.
–Al Pacino was offered the role of Jimmy Conway but he turned it down due to fears of typecasting. Ironically, that same year Pacino ended up playing a gangster – Big Boy Caprice in Warren Beatty's Dick Tracy (1990). He admits he regrets this decision.
–After Joe Pesci's mother saw the film, she told her son that the movie was good, then asked him if he had to curse so much.
–Ray Liotta's mother died of cancer during filming. Liotta says that he used his anger over losing his mother for certain scenes, the pistol-whipping scene in particular.
–The word "f***" and its other tenses are used 321 times, for an average of 2.04 per minute. About half of them are said by Joe Pesci.
–The movie's line "As far back as I could remember I've always wanted to be a gangster." was voted as the #20 of "The 100 Greatest Movie Lines" by Premiere in 2007.
–According to Ray Liotta, Martin Scorsese was so involved in every detail of the cast's wardrobe that he tied Liotta's tie himself to make sure it was accurate for the film's setting.
–The character of 'Fat Andy' whom Henry introduces us to in the bar is played by Louis Eppolito, an ex-NYPD detective whose father, uncle and cousin had all been in the Mafia. In 2005 Eppolito and his police partner were arrested and charged with racketeering, obstruction of justice, extortion and up to 8 murders. They were both sentenced to life imprisonment plus 80 years.
–In January 2014, several New York City organized crime figures were arrested as part of a federal investigation into a series of unsolved crimes, the most famous of which is the central caper in Goodfellas (1990), the 1978 Lufthansa robbery at J.F.K. Airport that netted over $6,000,000 in cash and jewelry.
–According to Nicholas Pileggi, some actual mobsters were hired as extras to lend authenticity to scenes. The mobsters gave fake Social Security numbers to Warner Bros. and it is unknown how they received their paychecks.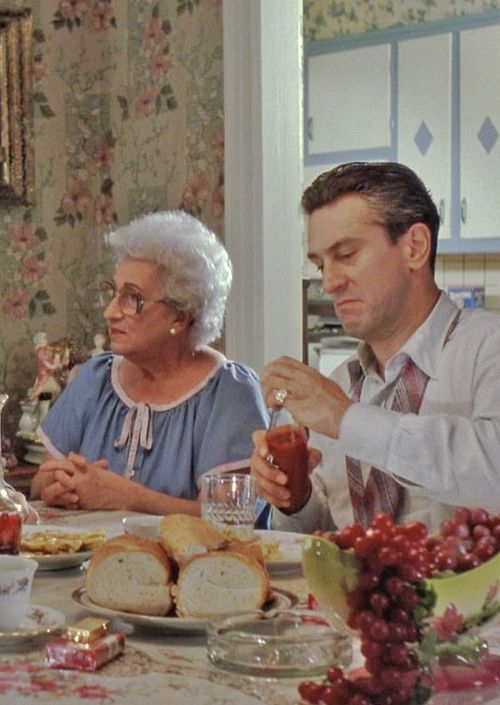 –Director Martin Scorsese's mother, Catherine Scorsese, plays Tommy's mother. She and the cast ad-libbed the dinner scene. Scorsese's father, Charles Scorsese, plays the prisoner who puts too many onions in the tomato sauce.
–Martin Scorsese first got wind of Nicholas Pileggi's book "Wiseguy" when he was handed the galley proofs. Although Scorsese had sworn off making another gangster movie, he immediately cold-called the writer and told him, "I've been waiting for this book my entire life." To which Pileggi replied, "I've been waiting for this phone call my entire life."
–The first scene filmed was the Morrie's Wigs commercial. Martin Scorsese was inspired by a low-budget commercial that ran in New York City for a replacement window company. Scorsese contacted the company and found that the spokesperson in the ad was Stephen R. Pacca, who owned the company and created the ad himself. Pacca was hired to write, direct and edit the commercial for Morrie's Wigs so it could look like an authentic local ad.
–Robert De Niro wanted to use real money for the scene where Jimmy hands out money. The prop master gave De Niro $5,000 of his own money. At the end of each take, no one was allowed to leave the set until all the money was returned.
–When Paulie confronts Henry after Henry's released from prison, Paul Sorvino improvised the slap to Ray Liotta's face, hence Liotta's reaction.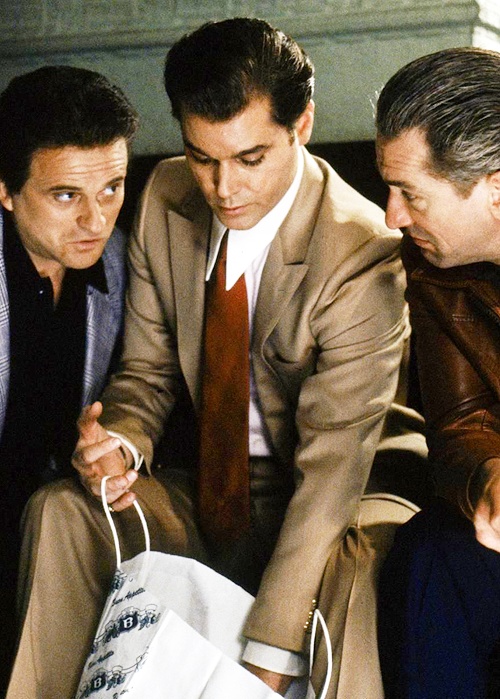 –Martin Scorsese reportedly didn't want Ray Liotta to have contact with the real Henry Hill before filming because he had never directed Liotta before and didn't want Hill to influence Liotta.
–Although Scorsese and Pileggi collaborated on the screenplay (and received Oscar nominations for doing so), much of the film's eventual dialogue was improvised by the actors.
–One of the little girls who plays Henry and Karen's daughters (specifically, the one in Karen's arms who was too shy to give Paulie a kiss when they arrive at his house for dinner) is Lorraine Bracco's actual daughter with Harvey Keitel, Stella.
–The painting that Joe Pesci's character's mother brings out was actually painted by "Wiseguy" author Nicholas Pileggi's mother.
–Paul Sorvino wanted to drop out of the role of Paulie three days before filming began because he felt that he lacked the cold personality to play the character. He called his agent and asked to be released from the film. Sorvino's agent told him to think about it for one day before making a final decision. That night, Sorvino looked in the mirror and was frightened by the look on his face. He realized that that look was the look he needed to play Paulie.
–The studio was initially very nervous about the film due to its extreme violence and language. The film reportedly received the worst preview response in the studio's history. Scorsese said that "the numbers were so low it was funny". Nevertheless the film was released without alteration to overwhelming critical acclaim, cementing Scorsese's reputation as America's foremost film-maker.
–Every one of Robert De Niro's outfits had a watch and a pinkie ring to go with it.
–Bobby Vinton was played by his son Robbie Vinton, who lip-synched to his father's recording.
–The dinner scene with Tommy's mother was almost completely improvised by the actors, including Tommy asking his mother if he could borrow her butcher's knife and Jimmy's "hoof" comment.
–According to Debi Mazar, when her character trips after meeting Henry it was actually Mazar tripping over the camera dolly track. Martin Scorsese liked it because it looked like she was overwhelmed by Henry and left it in the film.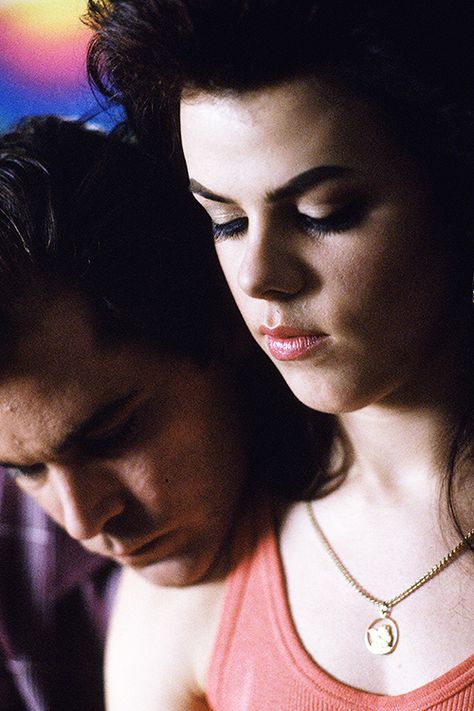 –Tom Cruise and Madonna were the producers' first choice for the roles of Henry Hill and his wife. Ray Liotta and Lorraine Bracco were subsequently cast in those parts.
–According to Ray Liotta, both Robert De Niro and 'Tina Sinatra (I)' put a fake severed horse head in his trailer, an homage to The Godfather (1972), as an initiation into Mafioso films.
–The M.P.A.A. ordered ten frames of blood removed from the film before granting it an R rating.
–Lorraine Bracco demanded real jewelry to be used for Karen's dresser. The production designer rented expensive gold and stones that were protected by armed guards.
–At Martin Scorsese's request, associates of the actual people were always on the set of the film, giving helpful and essential information about the life, people, settings and moods.
–Early on, Karen confronts Henry and says "What, do you think you're Frankie Valli or some big shot?" She is referring, of course, to the lead singer of The Four Seasons. Like Henry, the band had ties to the mob, and a member named Tommy DeVito.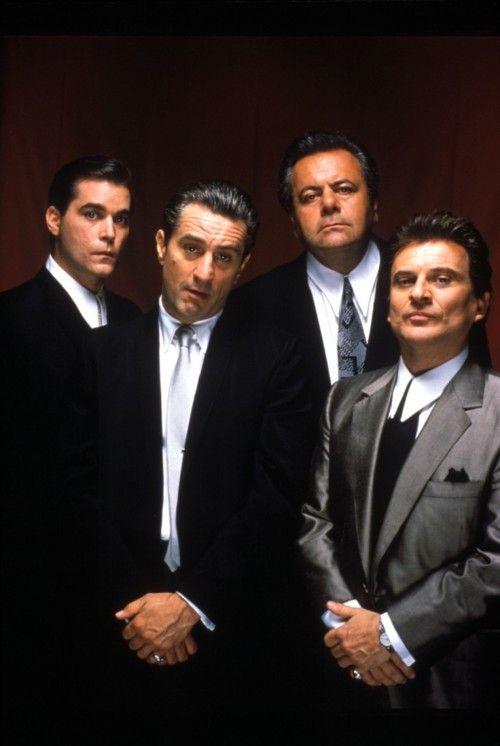 –Joe Pesci's Oscar acceptance speech is the sixth shortest in the Academy's history. All Pesci said was "It's my privilege, thank you", later admitting that he didn't say very much because he genuinely felt that he didn't have a chance of winning. (The shortest acceptance speeches are "Thank you", made by Patty Duke in 1963 when she won Best Supporting Actress Actor for The Miracle Worker (1962), "Thank you," made by Louie Psihoyos in 2010 when he won Best Documentary for The Cove (2009), Gloria Graham and Alfred Newman both said "Thank you very much" in 1963, and William Holden who said "Thank you. Thank you," in 1954. "Thank you. Very much indeed," was all that Alfred Hitchcock said when he won an Honorary Oscar in 1968, putting him one letter longer than Pesci.)
–Joe Pesci was in his forties at the time of filming, though Tommy DeSimone, Pesci's character's inspiration was in his twenties.
–During one of the final scenes, Henry Hill opens his front door and picks up a newspaper. Close inspection reveals that the newspaper is the Youngstown Vindicator. Martin Scorsese included it as an homage to Youngstown, Ohio, which has been called Mobtown USA.
–When the camera cranes up to reveal the dead bodies in the pink Cadillac, the piano exit of Derek & the Dominoes "Layla" starts to play. Originally played in C major, the tape speed of the coda was increased during mixing. The resulting pitch is somewhere between C and C sharp.
–According to Martin Scorsese, Marlon Brando tried to persuade him to not make Goodfellas.
–After the premiere, Henry Hill went around and revealed his true identity. In response, the government kicked him out of the Federal Witness Protection Program.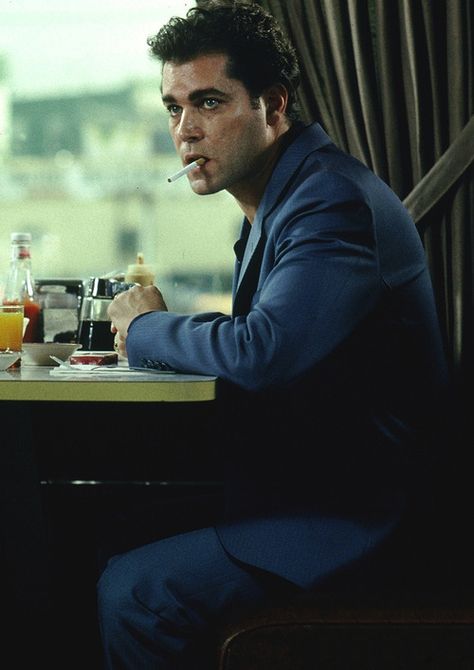 –Henry states that Tommy was shot in the face so that his mother could not give him an open-casket funeral. Tommy's real-life counterpart, Tommy DeSimone, was killed in January 1979. His remains have never been recovered.
–When Henry and Karen Hill are negotiating to enter the Witness Protection Program, former U.S. Attorney Edward McDonald plays himself, reenacting what he did in reality.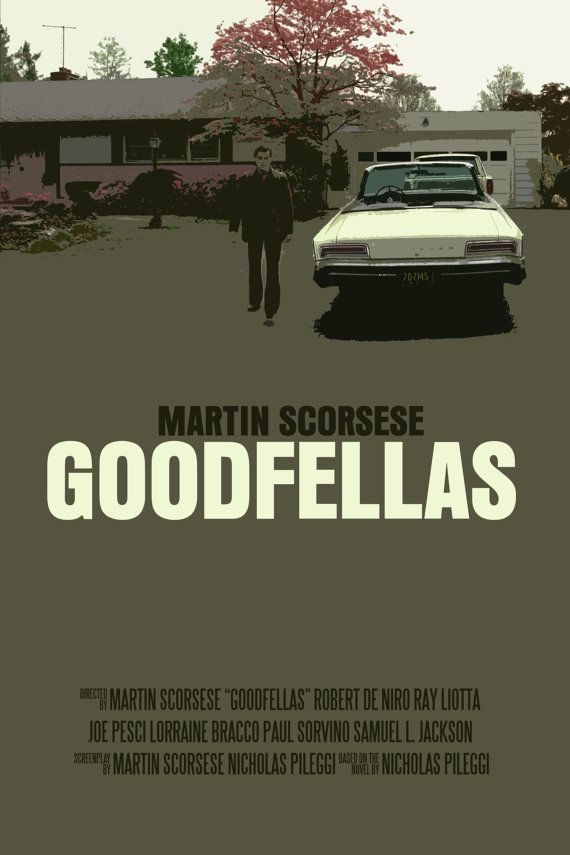 All trivia provided by IMDB
Original article provided by Deadline Hollywood written by Anita Busch