It's finally Friday, my favorite day of the week!  I'm off today and am lucky enough to have a 4-day weekend!  What to do?  I think I'm going to get some sun so my pasty legs look ok in my dress tomorrow night when I chaperone the prom.  But, I digress.  Today is Fashion Friday.  Any post related to fashion will do.  I hope you can link up with me.  My post today showcases some fabulous photos of floral patterns.
I love wearing floral patterns of any kind.  They're feminine, flirty, and a little romantic, don't you think?  Many designers love the floral pattern.  It never goes out of style and can be changed with just a color.  I'd love to know which photo is your favorite.
I hope you have a great Friday friends and thank you once again for all your support on my novel.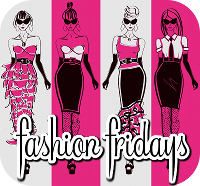 This is a blog hop…you're next!  Grab the code and don't forget to link back to Blonde Episodes!