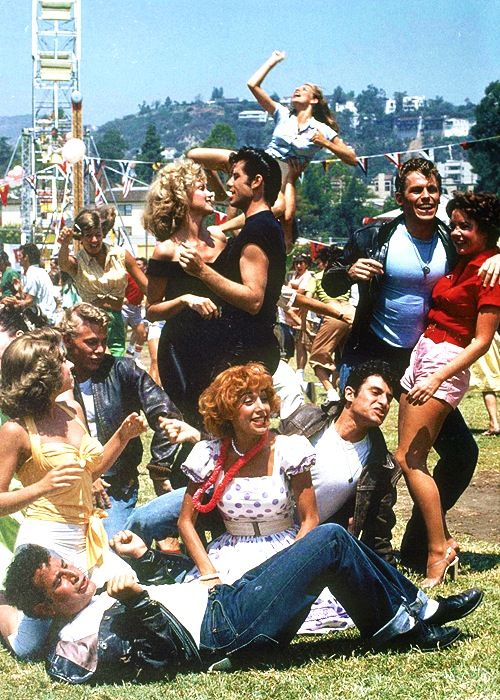 Happy Father's Day to all the dads out there! My dad is one of the best men I know and I'm so thankful for him every day.  He's guided me to try to be a humble, loyal, kind, Christian woman and I hope I make him proud.
Today also marks the 40th anniversary of the film Grease.  40 Years??? Can you believe it? I've done a blog post on the film before, but wanted to revisit it today in celebration of the anniversary. I loved the film growing up and still to this day whenever it's on TV I stop and watch.  My parents had the soundtrack (who didn't) and I've seen many Broadway versions as well.  Here are some fun facts about the film.  Grab your popcorn and make it a Grease day!
Marie Osmond told Larry King that she turned down the role of Sandy because she "didn't want my teenagers some day to say, you know, 'You have to go bad to get the boy.' It was just a personal choice as a some day mother." Additionally, Osmond told Fox news, "The script came to me, and (it) was much edgier then what Olivia came up with. But I was at a place in my life where I wanted to have children and I didn't like the fact that the girl had to turn bad to get the guy. I think the guy has to work hard to get the girl, that's what I believe."
In the decades following the film's release, a theory circulated that Sandy actually drowned at the beach, and the rest of the film is a near-death hallucination. Theorists claim the famous 'fly-away' ending is Sandy's ascent to heaven.
The final musical scene, "You're the One That I Want" was filmed with the help of a traveling carnival. Randal Kleiser decided the next day that additional scenes were needed for close-ups. The carnival had left town, so set decorators were called in to build replica backgrounds that matched the carnival ride's construction for the close-ups.
Grease featured 50s luminaries such as Eve Arden, Dody Goodman, Sid Ceasar and Frankie Avalon. Grease 2 brought Connie Stevens, another 1950s star, into the mix.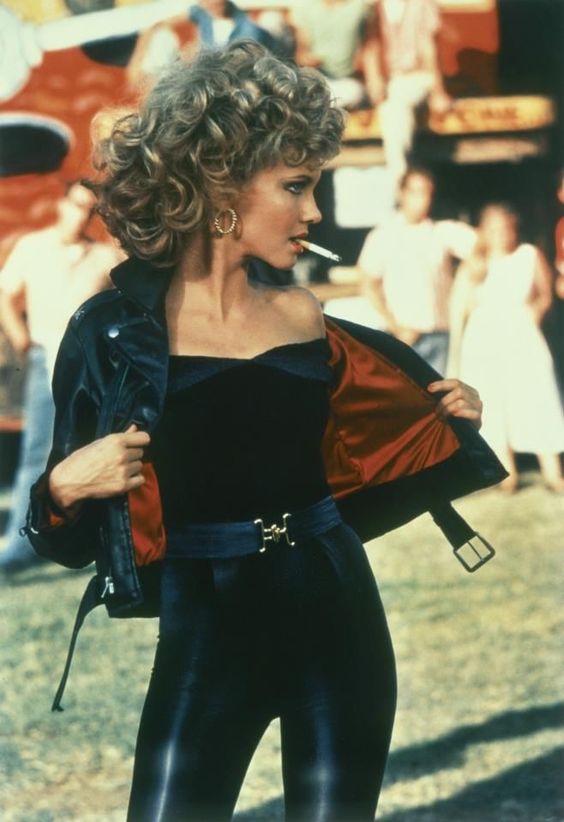 Jeff Conaway played Kennickie in the movie as well as appearing in the Broadway production before starring as Bobby Wheeler in Taxi. Marilu Henner, another Taxi star, also starred in the original off-Broadway production of Grease. John Travolta had also starred in the Broadway production as Doody, one of the supporting characters, not Danny. Ironically, six years after Grease wrapped, John Travolta and Marilu Henner would star in Perfect together.
Due to a zipper breaking, Olivia Newton-John had to be sewn into the trousers she wears in the last carnival scene of Grease
The "Look at me I'm Sandra Dee" number was supposed to suggest a class conflict between Rizzo and Sandy; and also between the Greasers and the preppies. Show producers Warren & Jacobs have said in interviews that they were biased towards the Greasers in this class conflict; and just as Rizzo skewers Sandy for her uptight and rigid values; Jim Jacobs was also satirizing uptight and phone middle class shallowness and prudishness with that number as well. When Sandy "conforms" to the Greasers at the ending they felt she was being liberated from this phony value system.
The fight between Rizzo and Kennickie at the malt shop was originally going to be much more violent; but Randall Kleiser and Allan Carr were worried that this would darken the material too much and make it too much like a Scorsese movie; so they softened the scene considerably. Infact the whole show was softened considerably from the dark, edge source material that was the Chicago off-Broadway show it derived from.
Leo and Chacha were members of the rival gang the Scorpions, and Danny/Chacha and Leo were in a love triangle together; as Chacha and Danny were briefly involved for a while before the events of the movie start. This is just one of many love triangles featured in the move. Danny/Rizzo and Sandy were in a love triangle situation together; as Danny and Rizzo used to date but are no longer as the movie starts. Also Chacha/ Leo and Kennickie were in a love triangle together; so were Sonny/Marty and Vince Fontane; so were Sandy/Danny and Tom Chisolm; so were Patty/Danny and Sandy.
Originally this was set in urban Chicago, not suburban Los Angeles. The Summer Nights number was originally called Foster Beach which is a popular beach in Chicago.
Grease was the top grossing film of 1978. At the time it came out it was the highest grossing musical of all time. It outgrossed all of the following releases of 1978: National Lampoon's Animal House, Superman, Every Which Way but Loose, Jaws 2, Heaven Can Wait, Hooper, Halloween, Convoy, California Suite, Up in Smoke, Foul Play, Revenge of the Pink Panther, Midnight Express, Coming Home, The End, House Calls, The Cheap Detective, The Lord of the Rings and Invasion of the Body Snatchers. This would be the last time a musical would ever top the box office charts in the history of film.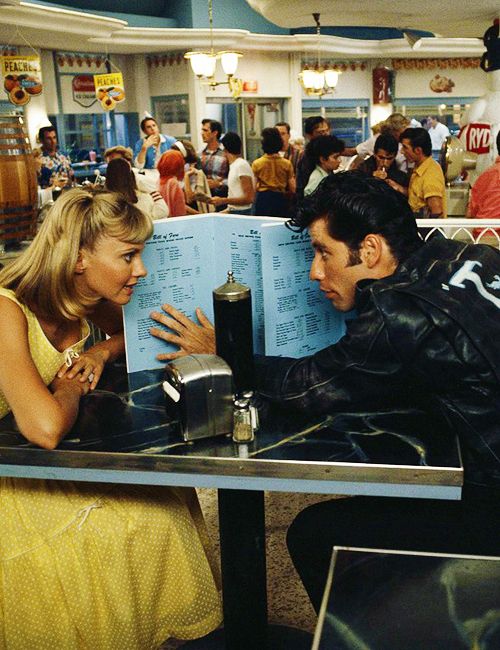 The saran wrap that Danny waves around and throws around the car in the number is a symbol for the prophylactics that men in the 1950s used to use: they would wrap themselves in saran wrap or cellophane before sex; thinking this was an effective prophylactic (it wasn't). Travolta was told not to do anything sexual with the Cellophane in the number by Randall Kleiser and the producers; they wanted the symbolism to be subtle to avoid an R rating. But Travolta disobeyed this and rubbed his crotch with the cellophane in the number anyway; and this made it into the final cut of the movie.
When it came out Grease was the top rated box office musical of all time. Now the list is as follows: 1. Frozen 2. Beauty and the Beast 3. Coco 4. Moana. 5. Mamma Mia! 6. Tangled 7. Beauty and the Beast 8. Les Miserables 9. La La Land 10. Grease
Jamie Donnelly had prematurely grey hair, which she dyed black to play Jan. Her hair grew really quickly, so her roots had to be coloured in daily with a black crayon.
Originally Sandy was not supposed to participate in the dance contest at all; Sandy was supposed to be sidetracked and subdued by Sonny before the contest even starts; allowing Chacha to jump in and take her place, and win the contest. But Olivia Newton John was anxious to do some dancing in the movie; even though she was not a professionally trained dancer like Travolta. So she convinced Randall Kleiser to let her dance with Danny in the contest for a few minutes; and then for Sonny to jump in and subdue her a few minutes later.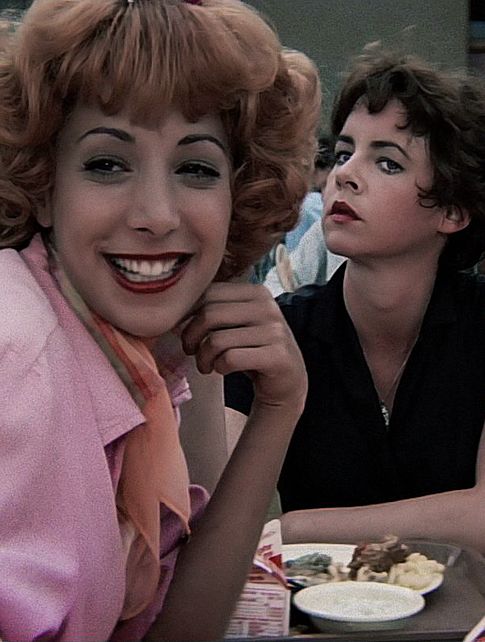 During the Thunder Road scene, Annette Charles was in excruciating pain from what turned out to be an ectopic pregnancy. That's why Cha Cha frequently leans against cars.
The school scenes were filmed at Venice High School in Venice, CA.
While shooting the "Greased Lightning" musical number, Jeff Conaway was accidentally dropped, hurting his back. Conaway started taking pain killers, eventually abusing prescription drugs, and spiraling into drug addiction until he died in 2011 at age 60.
The scene near the bridge after the car race was filmed in an area full of trash, and the water on the ground was stagnant and dangerous. Some cast members became ill from filming.
"Greased Lightning" was supposed to be sung by Jeff Conaway's character, Kenickie, as it is in the stage version. John Travolta used his clout to have his character sing it. The director felt it was only right to ask Conaway if it was okay. At first he refused, but he eventually gave in.
Most of the principal cast were well past their high school years. When filming began in June 1977, Stockard Channing was 33, Michael Tucci was 31, Jamie Donnelly was 30, Annette Charles was 29, Olivia Newton-John was 28, Barry Pearl was 27, Jeff Conawaywas 26, Didi Conn was 25, John Travolta was 23, Kelly Ward and Eddie Deezen were both 20, and Lorenzo Lamas was both 19.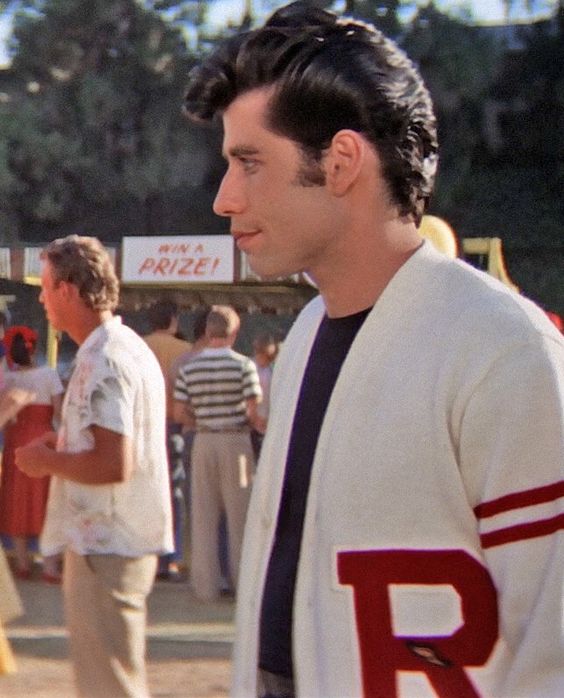 SaveSave
SaveSave
SaveSave
SaveSave
SaveSave
SaveSave
SaveSave
SaveSave
SaveSave